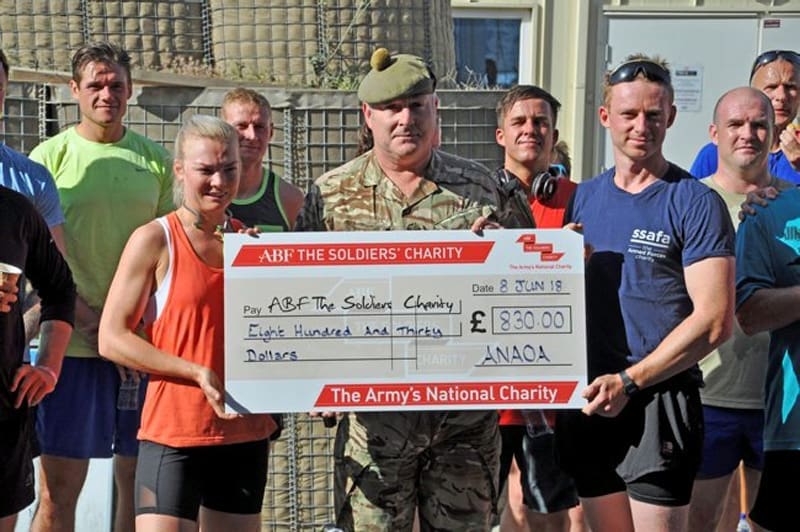 We're absolutely delighted to report that troops in Camp Qargha, Kabul, ran 5km in the Afghan heat to raise $USD 830 for ABF The Soldiers' Charity.
The event displayed the multinational nature of the mission in Afghanistan; including runners from the UK, New Zealand, Denmark, Australia, the US, and Turkey.
Despite the morning heat, Captain Ali Robinson RA, a mentor at the Afghan National Army Officers' Academy (ANAOA), won the race in an impressive time of 19:31.
WO2 (Company Sergeant Major) Bev Cornell, who organised the event, said: "I've seen the benefit that The Soldiers' Charity contributions make to injured soldiers in my time working at a Personnel Recovery Unit, so it's great for me to be able to run an event like this to support them."
The troops in Camp Qargha are deployed to conduct a train, advise, assist mission at ANAOA as part of the wider mission by NATO and its partners to build the capacity of Afghan National Defence and Security Forces.
This mission sees mentors and their force protection troops deploying to the Afghan Officers' Academy on a daily basis, mentoring Afghan instructors as they deliver training to the future leaders of the Afghan National Army.
Brigadier Adam Griffiths, Chief Mentor at ANAOA, said: "It's appropriate given the multi-national team that is working with ANAOA, that these multi-national charity events afford everyone to compete against and for each other. These events allow us to keep focus with a competitive edge that in turn promotes inclusivity and teamwork."