A LAND FIT FOR HEROES, 1918
On 11th November 1918, the Armistice was signed in a forest clearing near Paris, ending World War One. Soldiers from across Britain and the Commonwealth began to return home, but Prime Minister David Lloyd George's promised 'Land Fit For Heroes' was a short-lived dream. Veterans returned home to find a country exhausted by war, with mass unemployment, crippling national debt and no welfare state or NHS to depend on.
Meanwhile, in a politically violent and unstable Europe, the ground was being laid for the next war.
Crowds gather outside Buckingham Palace to celebrate the end of World War One (IWM Q 80135).
WAR BREAKS OUT, 1939
When World War Two broke out in 1939, there was a better understanding of the challenges to be faced. Men who had served as young officers and soldiers during the last war were determined to ensure support was in place for the next generation of veterans.
A soldier kisses his wife and children (IWM TR 1643).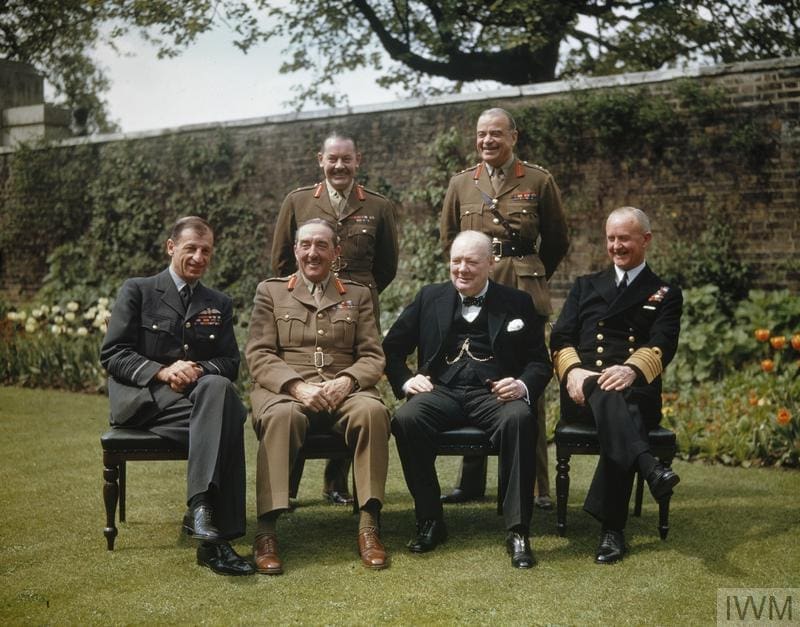 A MEMORANDUM AT DOWNING STREET, 1944
By 1944, the tide of the war was beginning to turn but three million British soldiers remained on active service, notably in France, Italy and Burma. The Army Board was determined that these brave servicemen and women would not face the hardships endured by those who fought in World War One, a generation earlier.
In February, Winston Churchill's War Cabinet discussed the formation of the Army Benevolent Fund – a national charity for the British Army – to ensure support would be available for soldiers, veterans and their families in peacetime.
Prime Minister Winston Churchill, pictured with his Chiefs of Staff in the garden of 10 Downing Street (IWM TR 2839). It was at a meeting of the War Cabinet that the formation of the Army Benevolent Fund was agreed in 1944.
THE ARMY BENEVOLENT FUND IS FORMED, 1944
The Army Benevolent Fund was established 15th August 1944, with HM King George VI as Patron and Field Marshal Lord Cavan as President. A £1.5m gift from the NAAFI enabled it to begin providing a lifetime of support to soldiers, veterans and their families. The minutes from its first Control Board meeting, held at Hobart House, London, on 23rd August 1944 are available to read here.
"The Fund for the Soldier is an object none can question because the soldier is what it's all about."
World War Two ended on 15th August 1945 – the charity's first anniversary.
By the end of that year, the charity had disbursed around half a million pounds to soldiers and their families in need. In 1946, Field Marshal Montgomery, hero of El Alamein, fronted the charity's first public appeal, 'Men At Arms'.
2010/2023: Name changes
In 2010, our charity changed its name to the ABF The Soldiers' Charity, in response to external factors within the sector and to ensure we remained relevant and contemporary.
We have continued to support the soldiers and veterans of every conflict since World War Two, with special funds for those who served in Northern Ireland, the Falklands, the two Gulf Wars, Iraq and Afghanistan. For almost 80 years, we've provided lifelong support for soldiers, former soldiers and their families and we'll be here as long as they need us.
In November 2023, we reverted to the name by which most have always know us: the Army Benevolent Fund.