In October, our amazing supporters gathered once more for a 100km walk in memory of those who fought in the two World Wars.

Our Fundraising Army took on either The Western Front route or the Normandy Beaches route, honouring yesterday's soldiers and raising over £200,000 for the soldiers and veterans of today.
After the unfortunate cancellation of last year's event in compliance with COVID-19 restrictions, it's been wonderful to welcome back supporters to this incredible event.
Normandy
The first route started at Sainte-Mère-Église, the drop zone for American paratroopers on D-Day. Walking in the footsteps of D-Day, the group trekked along five infamous Normandy beaches: Utah, Omaha, Gold, Juno and Sword Beaches. Reaching the end point at Pegasus Bridge, the three top fundraisers in the team had the opportunity to lay a wreath on behalf of the participants and our charity, in respects to those who lost their lives on the battlefront.
Amongst others who found the experience rewarding, walker Susan said: "The Normandy Beaches Walk was an incredible experience in the company of like-minded walkers and an emotional rollercoaster as we heard the history of the beaches and the stories from the D-Day landings."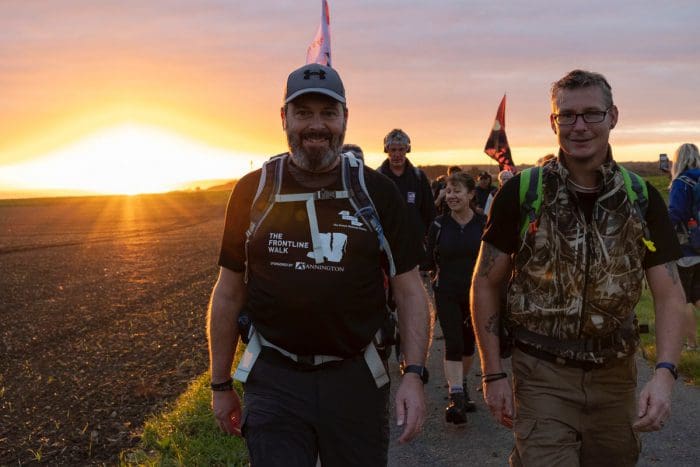 Western Front
A week later, our next team of dedicated supporters took off on the Western Front route at the Lochnagar Crater, where the Battle of Somme began, over three days they walked 100km to the finish line at the Menin Gate, ending with the Ceremony of the Last Post. The top three fundraisers also took the chance to commemorate those who fought in World War One, laying a wreath on completion of the walk.
"You will never fully appreciate the losses and sacrifices of all faiths, cultures and countries until you have walked the steps of the Western Front."  said Davy, one of the walkers.
We are so grateful to our Fundraising Army for their incredible efforts, including the many hours of exhausting preparation and training. From those who walked in memory of someone close to their hearts, to those who took on the challenge in tribute to soldiers who paid the ultimate sacrifice or those who fought for their county, we wish to thank everyone who helped up raise over £200,000 for soldiers, veterans and their families in need.
We would also like to thank our sponsor Annington Homes for all their support in helping us organise the event this year.
Registration for The Frontline Walk 2022 is now open – find out more at https://events.soldierscharity.org/frontlinewalk.