No Man's Land at the Chelsea Flower Show
In 2014, ABF The Soldiers' Charity proudly displayed a garden at the RHS Chelsea Flower Show. Titled 'No Man's Land', the garden was a commemoration of the huge sacrifices made during World War One as the nation came together to mark the 100th anniversary of the outbreak of the conflict.
The garden, which won gold in the show garden category also served as a reflection of the state of mind many servicemen and women find themselves in when they leave the Army. Designed by Charlotte Rowe, the garden contained several conceptual elements of the landscape of the chalk downlands of the Somme, where many World War One battles were fought.
View the full set of photos of the 'No Man's Land' garden on Flickr.
---
Show week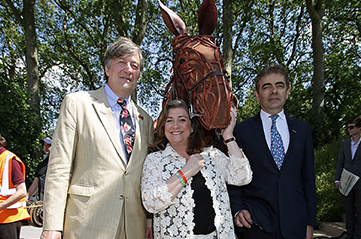 Blessed with beautiful weather for much of show week, the 'No Man's Land' garden proudly stood before thousands of visitors to the iconic show, as well as a number of celebrities including Stephen Fry, Rowan Atkinson, Caroline Quentin and Jeremy Paxman, who all read war poetry at the garden as part of its official launch. Spectators were also able to catch a glimpse of War Horse, who came down from the National Theatre.
Day two of the event saw the judges make their rounds to decide on which garden would be graced with a gold medal, and after taking in the surroundings of the No Man's Land garden, awarded the installation the prized gold medal certificate. It was a remarkable achievement and one which was fully deserved after the hard work of the charity and Charlotte Rowe, who designed the garden. Find out more about Charlotte on her website.
---
The Wipers Times
As part of the garden at the Chelsea Flower Show, The Soldiers' Charity also produced a revival of the much-loved World War One newspaper, 'The Wipers Times'. Produced for two years from 1916, the satirical newspaper became a troop favourite in the trenches of the Western Front and often took a humorous swipe at the war and the macabre situations they faced.
Wanting to honour the original publication, and offer something extra to the visitors to the garden, six issues of the revived Wipers Times were handed out to over 5,000 people. Now available to download and read on our website, the issues contain a number of articles written by guest columnists, including Stephen Fry (who wrote as the grandson of his fictional Blackadder character General Melchett), Katie Adie, Orla Guerin, John Simpson and many more. Read the full Wipers Times collection on our website.