Matt, a former infantry soldier in The Gloucestershire Regiment, was 32 when he was diagnosed with multiple sclerosis (MS). His illness affected his mental health and ability to care for himself. Working with SSAFA, our charity funded home improvements, a riser/recliner chair and a mobility scooter, which have transformed Matt's quality of life.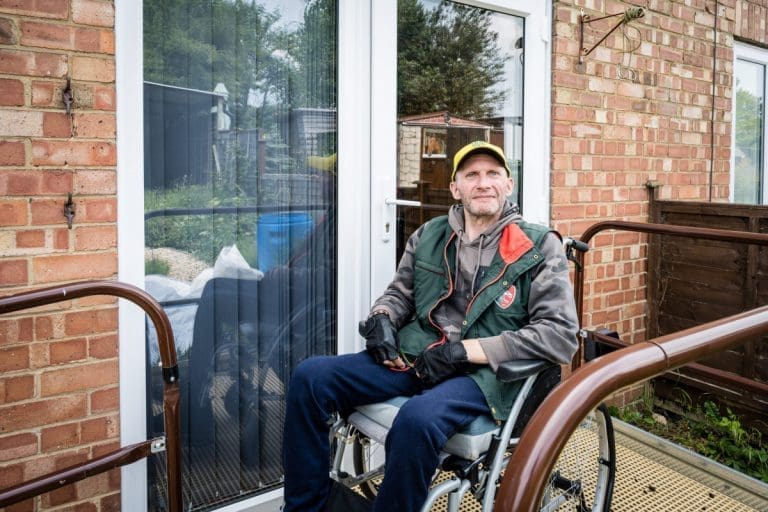 Matt grew up in Lydney, Forest of Dean and, aged 18, joined the 1st Battalion The Gloucestershire Regiment, serving in Bosnia and a short secondment with the Botswanan Defence Force deterring poachers, where he featured on Soldier magazine's cover after winning the Botswanan Grand National on a donkey.
During a tour in Cyprus, Matt sustained an ankle injury playing rugby; he later left the Army and settled in Cheltenham. In 2004, aged 32, after a fall at work, he was diagnosed with MS following a MRI scan. He recalls this difficult period when he lost his zest for life and stopped caring for himself: "I was just not me, I didn't socialise with anyone other than my mum and dad. I didn't feel comfortable in anybody else's company."
One of Matt's close friends, Ruth, offered to be his carer and generated local publicity in Cheltenham about his situation. Local businesses helped to renovate his home and a local SSAFA branch heard about his story. A SSAFA caseworker, Deborah, visited Matt to assess his needs.
In early 2022, our charity collaborated with SSAFA and Matt's regiment to transform his home, contributing £1,000 towards new energy saving windows. We also provided £2,000 towards a new riser and recliner chair and a mobility scooter.
Matt says: "I was in desperate need. The windows, chair and scooter have given me my independence. My quality of life is so improved. I can go down to the local park on my new mobility scooter where I used to walk. I thought those days were long gone but I can jump onto my scooter. I may not be running marathons anymore but I'm back on the right track. So I've definitely turned a corner."