Mark was shot in the neck while serving in Afghanistan, leaving him with devastating injuries. With support from our charity, he has achieved his goal of walking again and is now a passionate fundraising ambassador.
Mark served with the Duke of Lancaster's Regiment for 16 years, mostly as a sniper with the Reconnaissance platoon. His service included operational tours in Bosnia, Kosovo, Northern Ireland, Iraq and Afghanistan.
In 2010, while leading a routine patrol in Afghanistan, Mark was shot by a Taliban sniper. The bullet passed through his neck, leaving him paralysed from the neck down. Mark was evacuated back to the UK, where the devastating extent of his injuries became clear. Despite the predictions of his doctors, Mark was determined to overcome his injuries and learn to walk again.
Mark spent two and a half years undergoing physiotherapy at the Defence Medical Rehabilitation Centre at Headley Court. His rehabilitation and recovery has been long, painful and challenging – but through dint of sheer determination, he has achieved his goal of walking again.
Our charity has supported Mark at several points over the years, most recently by providing grants for training equipment so he could develop his interest in kayaking. Mark showed a great natural aptitude for kayaking, and went on to be selected for the GB Sprint Kayaking squad. Mark has become a passionate supporter of our charity, raising funds for the Army family through challenges and events.
3,000 Mile Virtual Atlantic Ocean Row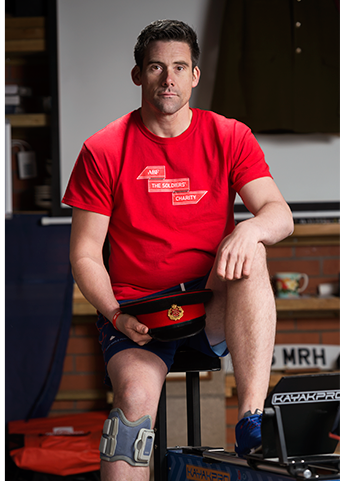 When the COVID-19 pandemic struck, Mark felt a compelling urge to 'do his bit' for the NHS staff who had cared for him after his injury. He says: "Without their care and support, I wouldn't be in the privileged position I am today, being able to put one foot in front of the other."
Mark challenged himself to row over 3,000 miles on the kayak machine in his back garden – the distance of the Atlantic Ocean from Cumbria to Cape Code. Managing between 40 and 60 miles each day, he completed his goal in three months, raising over £3,000 for the NHS and our charity. In August 2021, with a fellow beneficiary of the Duke of Lancaster's Regiment, Rick Clement, Mark paddled a Canadian canoe around the Cheshire Ring – 99 miles circuit of the canal network and has raised over £5000 for our charity.  Later that year, Mark was awarded Pride of Britain Regional Fundraiser for Cumbria.
Mark says: "I want to continue to push myself and make a difference. I want to show people with injuries from Afghanistan, Iraq or any war zone that you can still do things and do them well because we are soldiers. As the British Army motto states, we can still be the best.