Ena has
 spent her life campaigning for the rights of bereaved military families since the death of her beloved husband Bill in World War Two.
Born the youngest of five children in Hampshire in 1918, Ena's childhood was spent in the shadow of World War One. Her eldest brother had served in the trenches with the Royal Horse Artillery and suffered the effects of mustard gas. Ena recalls: "He came back very poorly. I never remember him not fighting for breath. He never spoke about what happened to him."  
War breaks out, 1939
When war came again in 1939, the 21-year-old Ena was married to Bill, a young man she had met while cycling. Bill was one of five brothers who all joined the Army: "He was in the civil service but went to join the East Yorkshire Regiment. He said he went into action because he couldn't sleep at night, thinking of his brothers away fighting."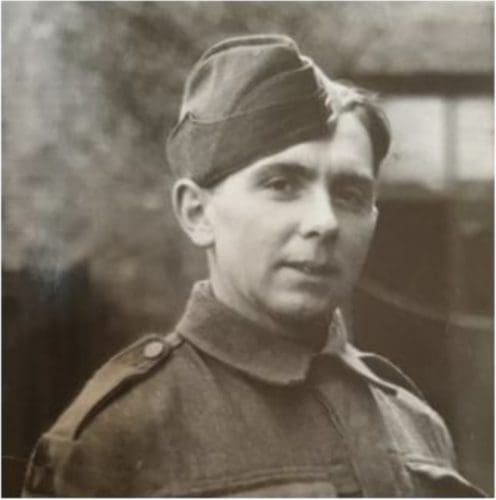 In 1940, Bill was one of over 330,000 troops rescued in the daring evacuation from Dunkirk. He survived the evacuation and returned to France four years later as part of the D-Day landings. Several months later, on 3rd September 1944, Bill was killed in Belgium when the vehicle he was travelling in was bombed.  
Ena recalls: "I got a letter from the War Office. When I opened it, I nearly fainted. You do expect it, but you don't think it will happen to you." Her daughter Ann was just two years old: too young to really remember her father.  
"Ann would keep asking when Daddy was coming back," says Ena. "I'd tell her Daddy isn't coming back and that he's gone up to see Jesus. I always feel sorry for people who lose their husbands when their children are tiny because I know how it feels."  
A lifelong advocate 
At that time, there was little support available for women who had lost husbands in the fighting. Ena joined the War Widows' Association and began to campaign: "We worked really hard, fighting for income tax and pensions for widows. It was very tough being a war widow. People said we were wasting our time, but we weren't." 
Inspired by the example of her parents, who had helped poorer people living in their village, Ena also dedicated herself to fundraising for charities. She first learned about Royal Star & Garter in the 1970s, when she was invited to the Richmond Hill Home with the War Widows' Association: "I was so fascinated and impressed that I thought that this will be the charity that I'll really work hard for."  
Over the decades, Ena has helped to raise thousands of pounds for Royal Star & Garter, until she herself became a resident in December 2019, shortly before the COVID-19 pandemic struck. Ena is very happy in the Home, observing the unique bond that exists between residents: "You can feel a camaraderie. There's a military bond we all share."  
In 2020 Ena participated in a Land's End to John O'Groats virtual cycle ride to raise funds for Royal Star & Garter during lockdown. She says: "We had a lot of fun cycling and taking part in all the activities. Staff always think up clever ways to keep us active in body and mind!" 
Supporting Royal Star & Garter
We are proud to have supported Royal Star & Garter for decades and we award annual grants towards the charity's care for Army veterans to ensure that Ena and other residents have access to person-centred therapies and activities.