We are pleased to announce that Salt of the Earth, a natural deodorant brand, and Phizz, a multivitamin hydration company, will be supporting our Cateran Yomp goodie bags this year!
We are counting down the days for the Cateran Yomp and to celebrate ten years of yomping for the Army family.
In June last year, we had Yomp Plan B in place of the physical event, and last June we had The Big Yomp Training Day to mark what would have been the Yomp weekend. Now, in September, we will be welcoming over 1,000 participants back to the Cairngorm Mountains in Scotland with three distances to choose from – bronze, silver and gold.
Salt of the Earth has a variety of award-winning deodorant sprays, roll-ons and travel sprays and will be kindly donating its natural deodorant balms towards our goodie bags.
Thomas Laird, Managing Director of Salt of the Earth said: "We are very pleased to support The Soldiers' Charity this year by providing Salt of the Earth Natural Deodorants for the inspirational participants of the Cateran Yomp."
Keep your eyes peeled for The Soldiers' Charity and Salt of the Earth competition next week on our social media channels.
To discover Salt of the Earth's range, visit: https://crystalspring.co.uk/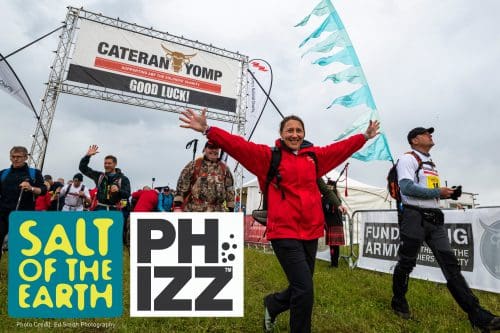 Phizz is another growing brand which is generously donating its amazing multivitamin hydration tablets which hydrates you, replenishes electrolytes & vitamins for energy and enhances your health and wellbeing. We are excited to see what it will release next.
Daniel Cray, CEO and Co-Founder of Phizz, said: "We are looking forward to fuelling Yomp athletes on their gruelling 24 hour march. Phizz multivitamin hydration tablets are used by over 50 professional sport teams to power their performance and we are proud to be a part of the 2021 Cateran Yomp. We salute the participants marching for this important cause and for raising awareness and funds to support our soldiers, veterans and their families."
To explore Phizz's range, visit: https://www.phizz.co/
To find out more about the Cateran Yomp, visit: https://events.soldierscharity.org/event/cateranyomp-21