Army Reservist Murray Kerr has won first place in our 2021 Photo Competition with his dynamic image 'Jumpers', which depicts officer cadets in training.
Each year, our charity runs a photo competition for its annual calendar, which is open to both professional photographers and the general public. This year saw more than 175 photos submitted to the competition. The images ranged from soldiers on parade to cadets in training. The high standard of photos the charity received provided a heart-warming and truly inspirational insight into Army life.
Choosing the winner of the competition was no easy feat, but the strong panel of judges finally came to an overall decision. This year's panel consisted of:
BBC TV news presenter Jane Hill
Dragon's Den investor Deborah Meaden
Antiques Roadshow's military memorabilia expert Mark Smith
Channel 4's Sunday Brunch host Tim Lovejoy
Army Sergeant Major Warrant Officer Class 1 Gavin Paton
Following deliberation by the judging panel, 12 photos were selected to be included in the charity's 2022 calendar. The number one spot went to Murray Kerr for his image 'Jumpers'. Kerr was over the moon upon being told that he had won this year's competition and said: "One of the key events of my working year as an army reservist, taking pictures at Royal Military Academy Sandhurst, is to go through my favourite images of the year to submit to the ABF The Soldiers' Charity's calendar competition, being able to contribute to the fine work done by The Soldiers' Charity is everything to me. The importance of supporting the forces family, be they veterans or serving soldiers, as future leaders of the army, is vital."
Second place went to Michael Patrick for 'A break in parade', while Jodie Farr took third place with 'Always by your side'.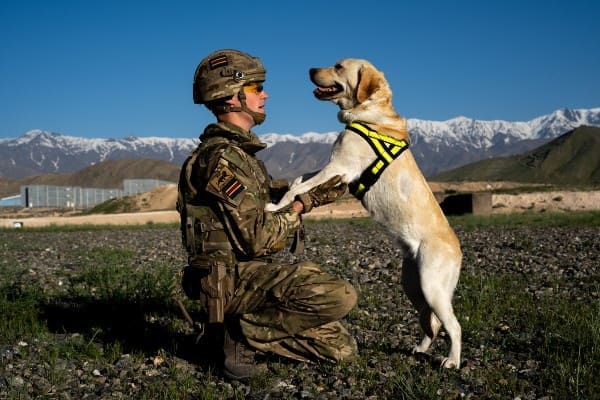 BBC TV news presenter Jane Hill chose 'Jumpers' as her first choice: "Murray Kerr's photo 'jumpers' stood out for its composition.  I love the strong sense of movement and the framing with the trees. I also like that the image poses many questions – are the soldiers running towards or away from something, or someone?  Are they in danger?  Are they male or female? (And of course, the answer doesn't matter). Where are they in the world? It's a very striking photo."
Mark Smith from The Antique's Roadshow appreciated how hard it was to pick the winning photos from a strong selection of images submitted: "It was a very difficult choice between 'Jumpers' and 'A break in parade', if they could have been joint they would have been. 'Jumpers' is a superb photograph. It captures a tangible moment in time, you can quite literally 'hear' the moment. Outstanding composition, it has drama, context and imagination."
The next photo competition will open early 2022 – keep your eyes peeled!