It still feels like spring hasn't quite sprung yet, but here we are almost in June, cautiously hoping that many of our in-person events and activities can resume soon. We have been delighted with the performance of some virtual fundraising events over the past year, for example Operation Bletchley, which last summer achieved a six-figure income way above and beyond expectations (read more below about this summer's Op Bletchley challenge) – but nothing can beat those face-to-face interactions that we have all missed.
I would also like to take this opportunity to share the news (for those not already aware!) that I will be retiring this autumn, after nine years at the helm of this important charity. Major General Tim Hyams OBE, currently the Army's Military Secretary (in charge of career management for 100,000 soldiers from Recruit to General) and the Army's senior representative in Scotland, will take over as Chief Executive and we are thrilled with this appointment.
It will be an interesting time for the charity as society and the economy rebalance following the turbulence brought by the pandemic. We expect an increase in demand for our support, as organisations scale up their hitherto reduced activities; and as individuals feel the impact of the end of government initiatives such as furlough. Throughout, we will remain committed to protecting the Army family and I'm sure Tim is exactly the right person to guide us through this next stage.
Read on to find out how we've been working with the Open University to ensure disabled veterans have access to higher education opportunities; Clare Balding's reflections on working with the Army; and about activities you can get involved with over the summer. I hope you enjoy the issue.
Sponsoring disabled veterans at the Open University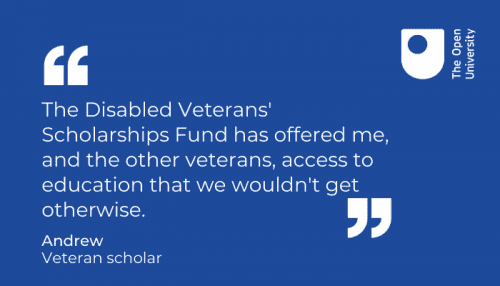 For the past four years, we have worked in partnership with the Open University to provide scholarships for disabled veterans, including those with mental health conditions. Open to both undergraduate and postgraduate students, the programme has so far enabled 160 veterans to study subjects ranging from social sciences and psychology to law, counselling and IT.
The Open University is currently accepting applications for the 2021/22 academic year, with applications closing on 9th July 2021 – this is a great opportunity for anyone who is contemplating further study or a fresh start to access a place at an elite institution, with financial support. Apply now. 
Podcast: General Talk with Clare Balding
"As soon as I hear the British Army is getting involved, I know that everything will be done in an organised manner. They manage to drop any sense of pressure or stress and do it in a way which makes you smile."
In the latest episode of our General Talk podcast, leading broadcaster Clare Balding speaks to news anchor Simon McCoy on topics spanning her presenting career; the link between animals and mental health; and how working with the British Army fills her with confidence. Listen now. 
Register for Operation Bletchley!
This July, step into a world of wartime espionage and tackle Operation Bletchley! Your mission is to cover the miles, crack the codes and deliver the secret message before time runs out.
Choose from our brand-new 30-mile Cairo mission our 50-mile London mission or our 100-mile Paris mission. With three levels of code to choose from – junior, codebreaker and cypher expert – Operation Bletchley is the perfect way to explore the great outdoors while supporting the Army family. Register now. 
Explore our Father's Day range
Celebrate Father's Day with a gift from our online shop! Choose from delicious fudge and truffles from our Designed by Esther range, nostalgic Airfix and Sluban model sets; puzzles and brainteasers; as well as stylish accessories from our Heritage range. 100% of profits go directly towards supporting the Army family, including the many Dads who are deployed overseas or supporting the national effort against COVID-19. Shop now. 
Thank you for enabling us to fulfil our promise of being here for soldiers, for life.
Yours sincerely,
Major General (Ret'd) Martin Rutledge CB OBE
Chief Executive, ABF The Soldiers' Charity