This month, 80 of our supporters walked 200km through the battlefields of Northern France and Belgium in memory of all those who fought in the two world wars.
Our Fundraising Army teams walked two separate routes for our annual Frontline Walk challenge: the Normandy D-Day beaches on 5-9 October and through World War One battlefields on 12-16 October.
Normandy Beaches Walk
Over 20 walkers followed in the footsteps of the Allied soldiers who liberated France in 1944 during World War Two, starting at the Merville Battery battlefield site. Our walkers averaged 33km a day trekking through the five Normandy battlefield beaches: Gold, Sword, Juno, Omaha and Utah. On the final day, they paid tribute at the British Normandy Memorial to all those who sacrificed their lives in the D-Day campaign.
Western Front Walk
The following week, our 57-strong second team started its trek from the Lochnagar Crater, the location of the Battle of the Somme in 1916, and, over 3 days, walked 100 km through the Somme and Passchendaele battlefields to the finish line at the Menin Gate, Ypres, again paying tribute to the fallen.
Our charity walkers thoroughly enjoyed the challenge and told us how much they gained from the experience.
Terry Whenham, who walked the Normandy beaches route, said: "When I first signed up for the walk in 2014 it was a life-changing experience. It continues to change my life every year."
Dave Warren, a member of the Western Front team, added: "It's been a week full of laughter and tears. Meeting old friends and making new. To walk the same land where so many lost their lives is a privilege."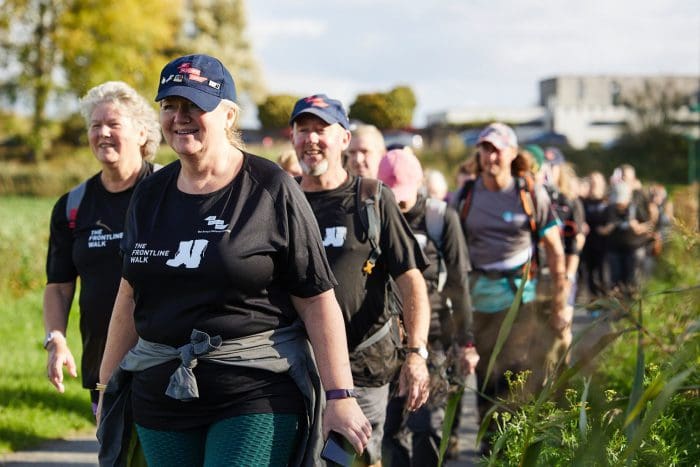 We are so grateful to our Fundraising Army for their fantastic efforts, including all the preparation and training beforehand, and for taking the challenge to remember the fallen in the two World Wars.
We also sincerely thank our friends at Classic Challenge for helping us to organise our Frontline Walk, and the team at British Normandy Memorial.
Registration for The Frontline Walk 2023 is now open – find out more at  https://events.soldierscharity.org/frontlinewalk