Earlier this month, 64 of our supporters walked 200km through the battlefields of Northern France and Belgium in memory of all those who fought in the two world wars. The Frontline challenge is expected to raise thousands towards our work for the Army family.
Our Fundraising Army teams walked two separate routes: the Normandy D-Day beaches on 4-8 October and through World War One battlefields on 11-15 October.
Normandy Beaches Walk
Some 21 walkers followed in the footsteps of the Allied soldiers who liberated France in 1944 during World War Two, starting at the Merville Battery battlefield site. Our walkers averaged 33km a day trekking through the five Normandy battlefield beaches: Gold, Sword, Juno, Omaha and Utah. On the final day, they paid tribute at the British Normandy memorial to all those who sacrificed their lives in the D-Day campaign.
Western Front Walk
Our 43 strong team started its trek from the Lochnagar Crater, the location of the Battle of the Somme in 1916 and, over 3 days, walked 100km through the Somme and Passchendaele battlefields to the finish line at the Menin Gate, Ypres, again paying tribute to the fallen. Our team included Army veteran, award-winning artist and our charity's Ambassador, John Cutting.
This year, we were also delighted that Army Veteran and award-winning military charity campaigner, Mark Harding, joined our Normandy team. Mark was seriously wounded in Afghanistan and shared these thoughts about walking on the Normandy beaches on his social media: "Hearing the chilling tales of the first wave where 60,000 British troops were lost truly brings home the staggering magnitude of sacrifice. It's a humbling reminder of the brave souls who fought valiantly in the Second World War, just as they did in Iraq, Afghanistan and other conflicts."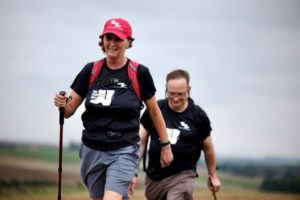 The Army's national charity is grateful to our fundraising teams who took on the challenge this year, to keep alive the memory of all those who fought and died in the two World Wars and to raise funds for the soldiers and veterans of today.
If you would like to take on the 2024 Frontline challenge, you can register here.