As the national lockdown rumbles on (albeit with a growing glimmer of light at the end of the tunnel now), it is cheering to see the impact of support we have been able to provide during what has been a difficult time for so many. The Spinal Injuries Association is just one example of a great charity we have been supporting through the pandemic whose demand for services tripled in lockdown.
The £30,000 grant we were able to give them, with thanks to our hugely loyal and generous supporters, has meant they have been able to help those in isolation with a life-changing spinal cord injury. This month we have also marked the 30th anniversary of the Gulf War with a series of initiatives including interviews with those involved, such as the author and broadcaster Kate Adie. Some staff were actively deployed and others were not yet born, so it has been an interesting exercise in information sharing!
Gulf War 30: Remembering Operation Granby
Between 1990 and 1991, Britain fought alongside 34 other nations to liberate Kuwait from Iraqi control. Known variously as the Gulf War, the Persian Gulf War and the First Gulf War, it was a short war that cast a long shadow. 30 years on, our charity is bringing to light the stories of those who served and sacrificed in the largest single deployment of British troops since World War Two. Read more. 
Gulf War 30: Ian's Story
Ian was a 21-year-old Gunner when he was deployed on his first operational tour during the Gulf War. The fighting was intense and had a profound impact on him: "Looking back, that war was certainly an eye-opener," he says.
Ian went on to serve for 22 years, finishing as a Staff Sergeant and having deployed on multiple operational tours. Read on to see how your support has helped Ian pursue his passion for pyrography – an intricate artform that enables him to manage his PTSD. Read more. 
Gulf War 30: Voices of the Gulf War Podcast
Hosted by Harry Bucknall, this special podcast brings the Gulf War to life. Featuring first-hand accounts from servicemen and women directly involved, from those in leadership roles to the soldiers providing combat and logistic support services at all levels on the battlefield, Voices of the Gulf War charts the story of the conflict. Read more. 
Gulf War 30: Logistics in Modern Warfare
We spoke to Major General Sir Martin White and Colonel Wayne Harber about the multi-faceted role of logistics in planning and executing Operation Granby. Both had leading roles; Major General White as Commander of the new logistic formation, the Force Maintenance Area, and Colonel Harber as Deputy Chief of Staff. In this article, they reflect on the immense challenges involved in coordinating logistics for a complex, multinational force over vast distances and unfamiliar terrain. Read more. 
Join us for a virtual Friday Night In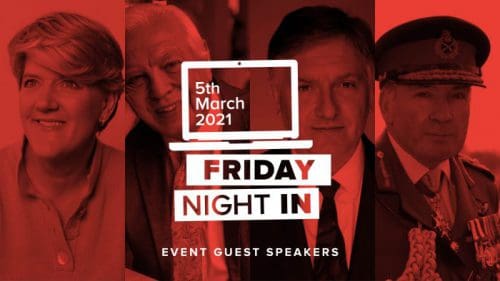 On Friday 5th March, join us for an evening of virtual entertainment with special guests including Clare Balding, John Simpson, General Lord Dannatt and Simon McCoy!
Bid for exciting prizes in our online auction, take part in our prize draw, hear exclusive interviews with our celebrity guests and enjoy music from the Royal Edinburgh Military Tattoo. Registration is just £10, and we'll be fundraising for soldiers, former soldiers and their families throughout the night. Sign up now. 
Thank you for helping us to fulfil our promise of being here for soldiers, for life.
Yours sincerely,
Martin Rutledge CB OBE
Chief Executive, ABF The Soldiers' Charity