Charity Golf Day – The Irvine GC
2nd May 2024
The Irvine Golf Club
Join us on the Ayrshire coast for our Charity Golf Day – The Army Benevolent Fund would like to welcome you for a fun charity golf outing at one of the most outstanding links courses in the West of Scotland.
Irvine Golf Club is set in a seaside location, the neighbouring Gulf Stream ensures year round links golf, whilst the romantic peaks of Arran present a stunning backdrop to the landscape.
To play golf in Scotland, you must visit Ayrshire, the birthplace of the Open, and enjoy the links experience at The Irvine GC. It was over the links land of Scotland that the game of golf was born and still today the true links experience is unparalleled the world over.
It truly is one of Scotland's hidden gems, offering a traditional links challenge, which owes much of its present day character to the course design of the great James Braid. One of Scotland's most celebrated course designers, James Braid created a legacy of distinctive courses, characterised by their great variety and interesting use of nature's assets.
The clubhouse offers first class facilities with a wonderful welcoming staff who cater for all your needs. The excellent chefs add to the culinary experience. They look forward to welcoming you on the day.
The club is no stranger to famous players and professional tournaments, playing host to the R&A for the Local Open qualifying when the Open is held at near neighbours, Royal Troon or Trump Turnberry.
Charity Golf
Packages available:
4 Ball costs £300
Sponsor the event from £500
Hole sponsorship £100
Nearest the pin, Nearest the Pin in 2 & Nearest the Fairway Marker – sponsorship available
Join the Hole in One Club for a chance of a lifetime
Mulligan balloons £10 each
For anyone not familiar, these balloons entitle you to a free shot. At any point in the game where your shot didn't quite go to plan, you just pop one of your balloons and retake your shot. If you're lucky, one of these balloons includes a prize! Please bring some cash with you.
"There are over a dozen fine links golf courses on the Ayrshire Coast. The Irvine Golf Club stands proudly as one of the best but perhaps the most unheralded

, Golf Empire.
Enter as part of a corporate or work team?
Do you know someone at work interested in golf & supporting a worthwhile charity. If so, feel free to get in touch with the Scotland team on 0131 376 4008 or email.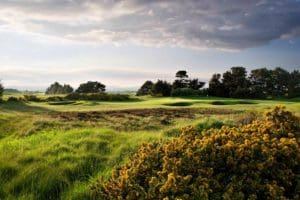 "If you think its hard meeting new people, try picking up the wrong golf ball." – Jack Lemon
The day includes
On-course competitions
£20 donation enters you in the prize-draw
Goody bag on arrival
Tasty breakfast rolls with tea/coffee
Stunning 2 course lunch
Any food allergies or special requests to event organiser at [email protected] by Thurs 25 Apr 24
Live and silent auction with various 'money can't buy' opportunities
Format
4Ball Texas Scramble
Playing handicap allowance: Full, max 24 for men and 32 for women (if you're above 24 or 32 respectively, unfortunately you will be cut for this event)
Team handicap allowance – 10% of full team handicap
Minimum of 4 drives for each player (1 must be a par 3)
Tees – Yellow for gents and red for ladies
Buggies available if required
Timings
07:30 – Golf club and practice facilities available
08:00 – Registration opens – tea, coffee, bacon rolls
08:30 – Briefing
09:00 – Group Photo
09:10 – Golfers depart for start
09:30 – Shotgun start, followed by 18 holes
13:30 – 19th hole, bar open
14:00 –  Lunch
14:30 – Prize draw followed by silent and live auction
The Irvine Dress Code
Normal golf attire on the course with smart casual for lunch. No jeans, t-shirts or rugby tops.
Prizes
Prizes for 1st, 2nd & 3rd Teams
Nearest the pin (TBC), Nearest the Pin in 2 (TBC) & Nearest the Fairway Marker (TBC)
Sponsorship opportunities available, please contact

[email protected]

.
Feel free to get in touch with the Scotland team on 0131 376 4008 or email.
The Irvine Golf Registration
Register as a 4Ball, to take part in the The Irvine Charity Golf Day, please click on this LINK

For more information on how we value your privacy, click here.
Get in touch with the Scotland team on 0131 376 4008 or email  to discuss
Gallery
Contact Us
If you need any further help or assistance, please do not hesitate to get in touch with us in the Scotland Office:
the Army Benevolent Fund
The Castle
Edinburgh
EH1 2NG
[email protected] or telephone 0131 376 4008
THANK YOU!