Between 12 December and 20 January, a four-man team of soldiers from The Scots Guards took part in the Talisker Whisky Atlantic challenge, the world's toughest rowing race, to commemorate the 40th Anniversary of the Falklands Conflict and raise funds for charity.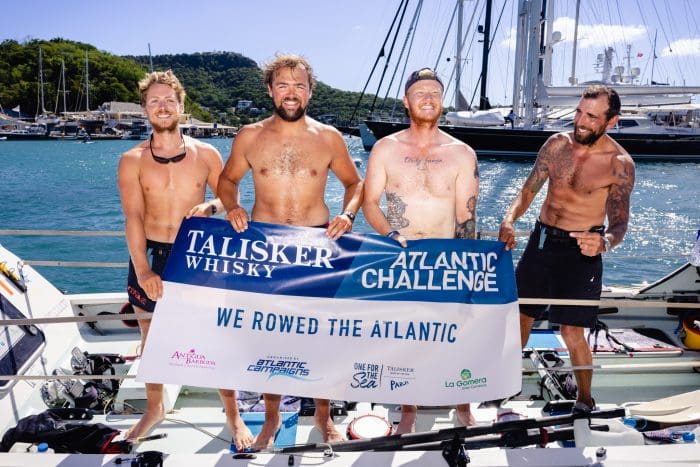 The team has raised over £35,000 so far, which will be shared 50/50 between our charity and The Scots Guards Charity. The final figure will be confirmed at a later date.
On 12 December, the four Atlantic Guardsmen started their voyage from La Gomera, Canary Islands and rowed more than 3000 miles to the finish line at Nelson's Dockyard, English Harbour, Antigua & Barbuda, which they reached on 20 January.
Competing with other teams across the globe, the team included Max Lawrence, William Botes, James Tate and Roland Walker. During their incredible voyage, the team tested their physical and mental resilience to the limit, battling 30ft waves, enduring cramped quarters, sleep deprivation and sheer exhaustion. At one point over the Christmas period the team lost some of their oars in the ocean but they battled on in high spirits.
The team has a very special connection to the Falklands Conflict. Max's father, Captain Robert Lawrence, served with 2nd Battalion Scots Guards and was injured during the Battle for Mount Tumbledown; his character was immortalised by Colin Firth in the BBC dramatisation 'Tumbledown'.
Our charity is absolutely thrilled with the Atlantic Guardsmen's fundraising efforts and would like to thank everyone who has donated so far. All funds raised will help us to support the Army family from all walks of life.
To support the team's fundraising efforts, please visit their GoFundMe page.
About the Talisker Whisky Atlantic Challenge
The Talisker Whisky Atlantic Challenge (TWAC) is the world's toughest and premier ocean rowing race. The annual race begins in early December, with up to 30 teams participating from around the world. It is a non-stop 3000-mile voyage in a 8.5m long rowing boat from the start point in La Gomera, Canary Islands (28oN 18oW) to the finish point in English Harbour, Antigua (17oN 61oW). Read more about it here.