On Monday 9 October, ABF The Soldiers' Charity was delighted to hold its annual Autumn Lecture at the National Army Museum.
This year, we were honoured to have two distinguished guest speakers: General David Petraeus, former Director of the CIA, and Lord Andrew Roberts, the best-selling British historian.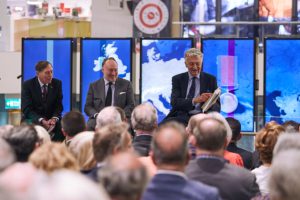 In conversation with the eminent journalist and broadcaster Sir William Shawcross, our guests talked about their new book, "Conflict: The Evolution of Warfare from 1945 to Ukraine", a deep and incisive history of modern warfare, which draws lessons and insights from recent conflicts and what they indicate for the future of war. The panel also offered their views on the ongoing crisis in Israel and Gaza.
Long standing ABF supporter, Brigadier (Ret'd) James Ellery, introduced the panel and Brigadier (Ret'd) Peter Monteith, Chief Operating Officer, ABF The Soldiers' Charity, thanked him, our distinguished guests, and the National Army Museum for a highly enjoyable evening for our supporters.
The event was organised by our charity's London regional office and 115 attended, with ticket sales going towards our work supporting soldiers, veterans and their families.
"Conflict: The Evolution of Warfare from 1945 to Ukraine", published by William Collins, will go on sale from late October 2023. Read more here.