As the Army's national charity, we're committed to helping serving soldiers, veterans, and their immediate families when they are in need. Last year our funding helped around 70,000 members of the Army family, like former soldier Matt, helping transform their lives for the better. We provided Matt with financial support after his life began to fall apart when he was diagnosed with Multiple Sclerosis (MS). But we can't do it alone.
Will you give a gift of £30 and help a former soldier like Matt get their life back on track?
At 18, Matt enlisted as a Private in 1st Battalion The Gloucestershire Regiment (which was later amalgamated into The Rifles in 2007). He served in Bosnia on a peacekeeping tour and occasionally still has flashbacks from the fighting and bombing he witnessed while on tour, even though it was nearly 30 years ago.
After a serious ankle injury ended his life in the field, Matt chose to leave the Army and begin a civilian life. But after a fall at work and an MRI scan, Matt was devastated to learn he was suffering from progressive primary Multiple Sclerosis (MS).
As his condition progressed, he simply gave up. He stopped caring about himself and hid away at home, ashamed of the way his muscle wastage made him look.
His home was dark and dingy, the windows didn't work properly, and his old mobility scooter had broken down. He recalls: "I wasn't bothered if I woke up the next day [and] I stopped making plans for the future."
We provided Matt with grants to pay for new windows in his home and later to fund a new rise and recline chair, and new mobility scooter which has been truly life-changing.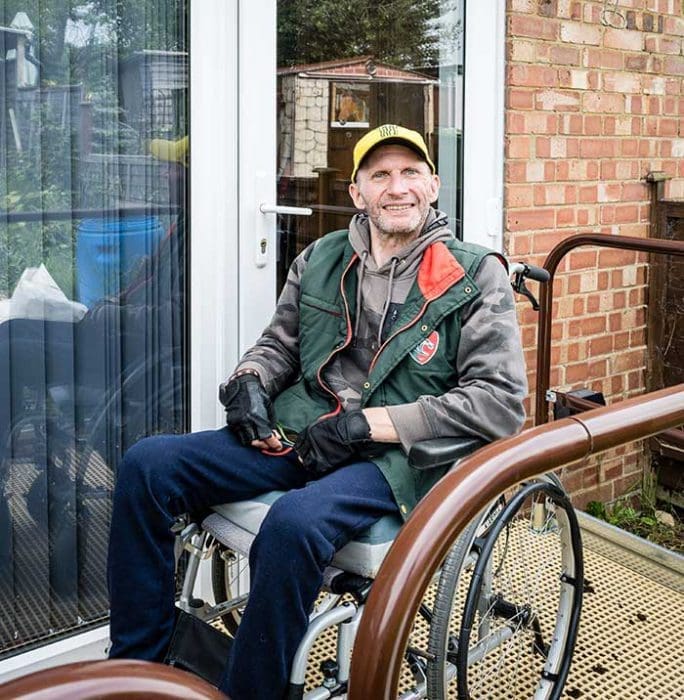 "It's made me more positive, and it's made my life so much easier and so much better… [Now] every day is a new day. There is always something to look forward to. So, I feel like I've definitely turned a corner. I mean I got my independence back. I feel like I got me back."
Our soldiers already give so much on our behalf. That's why we've pledged to always be there for every member of our Army family. For Matt, that means that if he ever needs help again, we're there for him.
"My MS is progressive – so it could get worse over time. But I know I can always turn to ABF The Soldier's Charity in the future," said Matt.
A gift of just £30 could help transform the lives of more former soldiers like Matt by providing them with the opportunity to get their life back on track.