As part of our charity's long and close relationship with Combat Stress, we are pleased to award a £250,000 grant towards its life-changing support for veterans with complex mental health issues; with a particular focus on post-traumatic stress disorder.
Combat Stress is the UK's leading charity for military veterans' mental health. It provides a wide range of free services including psychiatric and psychological treatment, substance misuse management, occupational therapy, peer support, family support and a 24-hour helpline.
Between 1 April 2021 and 31 March 2022, over 14,000 veterans benefited from Combat Stress' help. More than 8,200 called the charity's helpline, over 1,200 veterans directly received support from Combat Stress' specialist staff, and its online self-help resources were accessed by veterans over 5,000 times.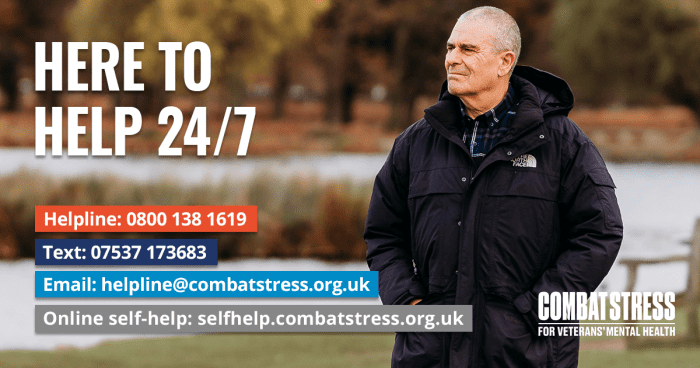 Robert Marsh, Director of Fundraising at Combat Stress, said:
"We are extremely grateful to ABF The Soldiers' Charity for their commitment to Army veterans. Their generous grant will ensure former servicemen and women with complex mental health issues can receive the specialist treatment and support they need from us to rebuild their lives."
Brigadier (Ret'd) Peter Monteith, Chief of Staff at ABF The Soldiers' Charity, added:
"We are always proud to donate to Combat Stress, the nation's leaders on veterans mental health. The 40th anniversary of the Falklands Conflict this year is a timely moment to recognise Combat Stress's work in helping those who served their country and need expert help with psychological injuries sustained in battle and other mental health-related conditions."
To find out all about the important work carried out by Combat Stress, visit their website here.