Each year, our charity runs a photo competition which is open to both professional photographers and the general public. This year saw over 100 entries, and the top 12 will feature in our 2023 calendar, which is now available for pre-order.
The winning images presented various scenes from Army life across several themes – training, operational and ceremonial – and in a wide variety of locations. This year, the quality of the entries was truly inspirational.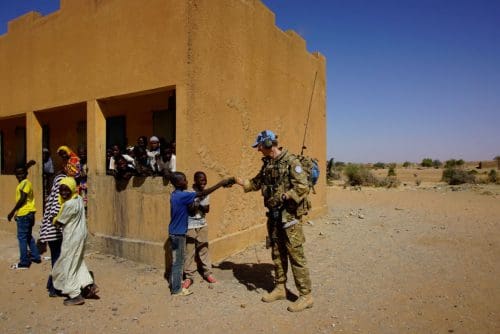 Our three judges this year were: Rt Hon Ben Wallace MP, Secretary of State for Defence; Rt Hon Sir Lindsay Hoyle MP, Speaker of the House of Commons; and Tom Tugendhat MP, Chairman of the Foreign Affairs Select Committee. We are grateful to them all for taking the time to review our shortlist of 12 and select the winners.
In praising our competition entries generally, Sir Lindsay Hoyle said:
"[These photographs] renewed my profound respect for the Armed Forces and everything they do to keep us safe. The images not only capture a moment in time but give us an insight into the breadth of experiences and challenges faced by the military every day across the world."
The winning entry was from Taylor Elliott for "In the Madness", which shows the British military evacuating refugees from Afghanistan through Dubai airport in August 2021.
Second place went to Jamie Nolan for "Lost in Thought", while Neil Shaw and Amber Sokyrka took joint third place with their respective entries: "Engagement" and "Chinook Pick-up".
In selecting the winner, along with Ben Wallace who also picked Taylor's entry for first place, Sir Lindsay said:
"I like this photo because it tells a story – of troops helping to airlift British nationals and eligible Afghans to safety, after the Taliban seized control of Kabul. The rescue involves two services – air and land – and the aircraft is illuminated, which gives us a sense of its size. The lighting inside the aircraft leads our eye inwards towards safety and a life that is less perilous – yet it is night time, so the situation seems more dramatic. The people involved moved as the shot was being taken, causing a blurring effect, which adds to a sense of anonymity. We do not know who they are – and they do not seem to know where to go, which no doubt prompted the title 'In the Madness'."
Tom Tugendhat was particularly impressed with the second place entry, Jamie Nolan's vivid image "Lost in Thought", depicting a soldier standing on sentry duty during British Army peacekeeping operations in Mali.
"This is a wonderfully evocative "On Stag" photo, as a lone British Army soldier stands on sentry duty in Mali, one of the many areas of the world where our Armed Forces are doing their bit for international peacekeeping. The image tells us much about military overseas operations and our soldiers deployed across the globe protecting our way of life."