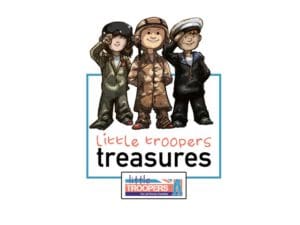 Little Troopers, formerly known as 'My Daddy is a Soldier Adventures', launched their new 'bedtime story' app on 24th June 2017 with the help from a £10k grant from ABF The Soldiers' Charity.
Little Troopers Treasures allows serving personnel to stay connected with their families through the magic of stories while they are away from home. Parents who serve in the British Armed Forces are often away for up to nine months of the year which leads to many children experiencing separation from their Mother, Father, or sometimes, both parents.
The app, which is exclusively available to military personnel, allows the serving parent(s) to choose a book for their child and record a video reading synchronised with the pages turning. A range of much-loved children's eBooks are featured on the app including:
Judith Kerr's Mog
Michael Bond's Paddington
Emma Chichester-Clark's Blue Kangaroo
Louise Fetigan, the Founder of Little Troopers, commented: "I'm so pleased that we can offer this app to our British Armed Forces families. Night time is always hard when parents are away, as the children often ask for Mummy or Daddy at bedtime. It will be so lovely for them to see a video and hear their voice through a special story. Our aim is to help families stay connected through time apart and, with the help of The Soldiers' Charity and HarperCollins, we've been able to make that aim a reality."
For more information on Little Troopers Treasures visit www.littletroopers.net/Treasures or the App store.